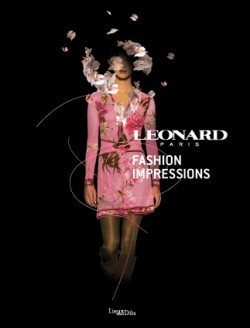 Publié par:
Editions Lieux Dits
Permalien vers cette page
Parution : Avril 2006
Couverture cartonnée, jaquette
Format : 22 x 29 cm
210 pages
220 images
ISBN : 9782914528252
House of Leonard: Daniel Triboullard
Since 1958, Leonard creations have been unmistakable and based on an original concept: a flower laid on silk. The House of Leonard is a unique label, invariably associated with the art of fabric printing, and has succeeded in translating the cheerful and colourful world of couturier Daniel Tribouillard, who invented the revolutionary printing process of the "fully-fashioned".
A French Fashion History Book
This book complements the first international exhibition dedicated to the designer (musée des Tissus, Lyons). It brings an exclusive perspective on one of the main exporters of French fashion and luxury goods in Asia, but also on the remarkable work of Lyons fabric finishers, with whom Leonard has always worked.
The place of Leonard in the History of Fashion
The book will include chapters dedicated to the man himself, Daniel Tribouillard, to the Company and to the Leonard collections and their evolution. Chapters will also be dedicated to Leonard´s place in the history of fashion since the end of the 1950´s, to the printing of fashion fabrics, to the techniques and also to the historic importance of this industry in Lyons and this region.
The house of Leonard — as noted previously — feeds on certain contemporary preoccupations. The house of Leonard is not indifferent to the success of certain other luxury ready-to-wear houses, whether French or Italian. But does the house of Leonard feel the need to follow the sudden fluctuations in today's fashion? It knew to create its very own original style. Certainly, this style has to be compared with others, which will allow a better understanding of its intrinsic identity. Women know that they can find in the creations by the house of Leonard a form of luxury and a refinement based on quality materials, a unique floral concept and flamboyance of colour. This aesthetic corresponds to an established form of elegance and femininity (fig. 133) existing in France and in Europe, which has prevailed in a certain current of the fashion history and western couture, and which remains fundamental among Asian preoccupations. The house of Leonard has created for more than forty years with the same line in terms of artistic direction. It pursues in a long-lasting way its aesthetic search, which corresponds to a particularly demanding market and clientele. Its aim is apparently more to resist time (fig. 134) and fulfill the desires of an up-market international clientele, and in so doing, make History, rather than to succumb to the passing whims of everyday fashion.
Par Collectif
Avec la participation de Daniel Tribouillard, Maria-Anne Privat Savigny

Mise à jour...